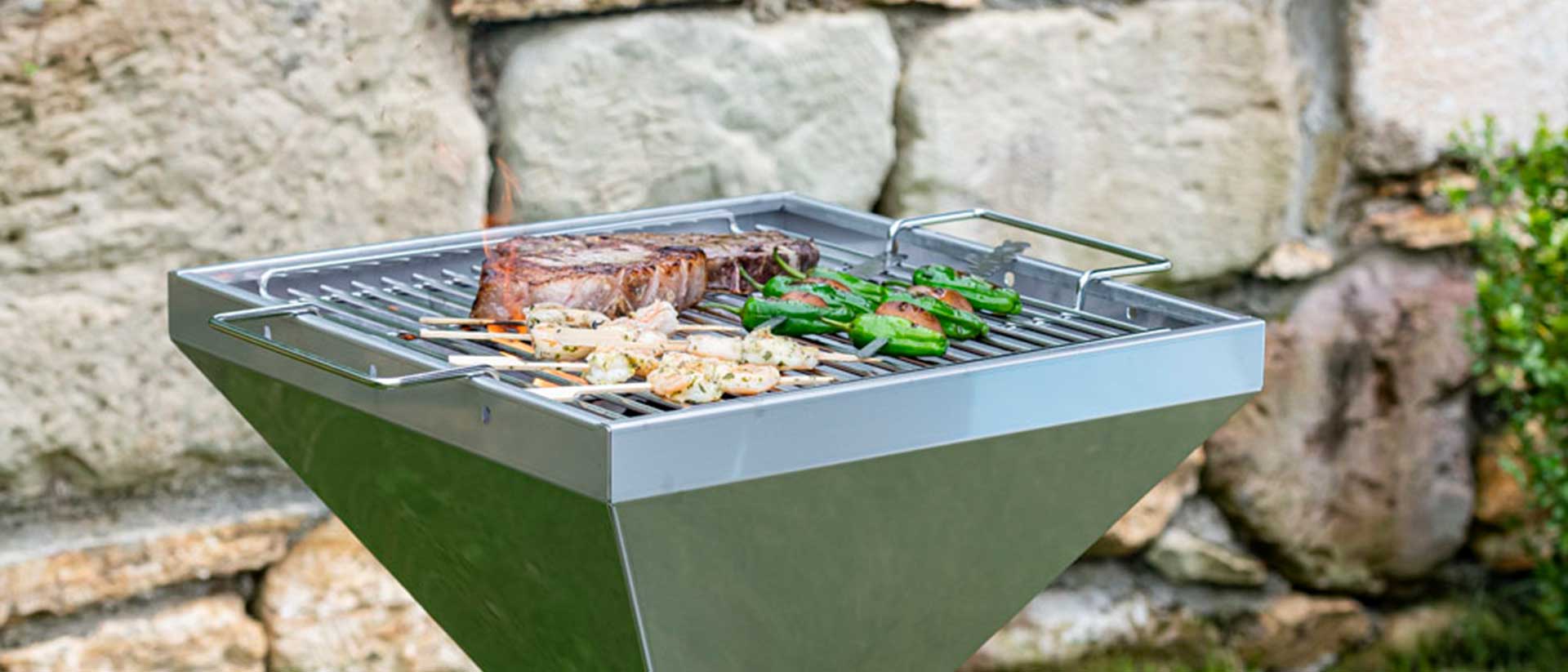 The THÜROS stainless steel barbecue is made of long-lasting V2A/4301 stainless steel
The distinctiveness of THÜROS barbecues is, that every barbecue is made of long-lasting V2A/4301 stainless steel. A stainless steel barbecue from THÜROS is the best option, when searching for the pefect barbecue. THÜROS offers a wide range of stainless steel barbecues: for example, there is the charcoal table barbecue T1, which is also available as electric barbecue, the charcoal column barbecues T2, T3, T4 and T5 and the Thüros gastronomic barbecues THÜROS Duo, THÜROS III and THÜROS IV between others. The well-treid chimney flue principle is part of most of the THÜROS stainless steel barbecues.
Advantages of a THÜROS stainless steel barbecue
The advantages of a Thüros stainless steel barbecue are perfectly obvious and are based on best quality and functionality. Because of the stainless steel the barbecues are not only optically pleasing, but, even more important, a THÜROS barbecue guarantees a long-lasting barbecuing pleasure – in contrast to barbecues, that are made of lower grade materials. A barbecue is a equipment acquisition you should be able to enjoy for a long time. So it must stand all weathers and constant use. A THÜROS stainless steel barbecue does not rust and is absolutelyy solid and stable. Slight discolourations of the stainless steel after barbecuing are typical for the material.
All THÜROS barbecues have also a food save grill grate made of electropolished stainless steel.
Why a THÜROS stainless steel barbecue?
11 reasons for a THÜROS stainless steel charcoal barbecue
1. Large barbecuing system
THÜROS – a well thought out barbecuing system
2. Minumum charcoal consumption
THÜROS – the construction guarantees optimal function and minmal charcoal consumption
3. Fast lighting without additional devices
THÜROS – the integrated chimney flue principle assures fast lighting without additional devices like hair dryer or air bellows
4. Adjustable temperature
THÜROS – adjustable temperature due to ventilation gate
5. High stability
THÜROS - Modern production, including laser systems and final assembly using welding and spot-welding processes – the base for high stability
6. Long-lasting and nearly indestructable
THÜROS – long-lasting and nearly indestructable due to the use of high-quality V2A/4301 stainless steel (anti-magnetic) and a material thickness of from 1mm onwards
7. Grill grates made of stainless steel
THÜROS – all stainless barbecues have stainless steel grate, electropolished and therefore food save
8. Easy assembly
THÜROS – manufactured completely or in assembly groups, that means easy assembly
9. Extendible by accessories
THÜROS – extendible up to the barbecue station by a lot of accessories
10. Unlimited repurchase guarantee
THÜROS – unlimited repurchase guarantee for accessories and spare parts
11. Large model variety
THÜROS – large model variety: table barbecue, barbecue stations, column barbecues and gastro barbecues, all from a single source
A stainless steel barbecue – rational decision or matter of taste?
When the barbecue is cold and unused, the decision to buy one barbecue or another is only a matter of taste, regarding the colour. If you want to use your barbecue – and that is the case that interests – he economic point of view is more relevant. A baerbecue made of steel sheet, for example, loses its colour after a few barbecuing sessions. Normally, the paint is then burnt or peeled off. What remains is the pure steel sheet, that rusts after a very short time in the open air. Any type of fat – inevitably released during barbecuing – adheres to the rough surface of the cooking grate. After a few uses, the surface of the grill becomes so encrusted with this fat/rust mixture, that there is no hygiene or aesthetics any more.
Barbecues are of a different product innovation than for example computers. So you can and should expect and demand from a barbecue to be used 10 years or longer.
How true:
"There is hardly anything in the world that someone cannot make a little worse and sell a little cheaper, and the people who consider price alone are that person's lawful prey. It is unwise to pay too much, but it is also unwise to pay too little. When you pay too much, you lose a little money, that is all. When you pay too little, you sometimes lose everything because the thing you bought is incapable of doing the thing you bought it to do. The common law of business balance prohibits paying a little and getting a lot... It can't be done. If you deal with the lowest bidder it is well to add something for the risk you run. And if you do that you will have enough to pay for something better."
John Ruskin, English social reformer (1819 – 1908)
What should you look out for when buying a stainless steel barbecue?
As a customer, you associate the term "stainless steel" with persistance due to rust resistance, easy-care, elegance and exclusivity. This expectation causes you to be willing to spend a good amount of money . At this point it is woth the trouble to compare personal expectations and the quality of the goods on offer, so that one buys good value and not low quality.
Quality has its price: cheap can become expensive very quickly
The use of highly polished stainless steel sheets in barbecue manufacture is very likely to be solely for the sake of the show effect on the sales floor. So don't be afraid to use a magnet to help you decide what to buy: high-alloy stainless steel is generally anti-magnetic. Due to the high heat exposure, after only a few uses, the stainless steel takes on the typical, metallic tarnish colours and the high gloss is no longer visible. Natural stainless steel makes the tarnish appear more discreet and the whole barbecue look better cared for.
We do not recommend a material thicknesses of less than 1 mm. The high heat exposure causes too thin stainless steel sheets to dent severely.
The use of iron screws in stainless steel
The use of iron screws in stainless steel is considered one of the biggest faults in steel construction. The development of rust on the iron screws (even if they are refined) also damages the stainless steel material. You should therefore check the stainless steel barbecue carefully.
A stainless steel barbecue and heat development and tension
Due to great heat development there will be tensions and stresses. Therefore solid connections are important. According to the rules of raftsmanship, not only nuts and bolts are need, but also washers. These should not be missing and material savings at this point can cause unpleasant surprises.
The best and most solid barbecues are those, that are completely welded or those, that have as few bolted connections as possible.
V2A stainless steel
If you buy a stainless steel barbecue, the cooking grate should also be of V2A stainless steel. Only stainless steel is food save. So do not save on your health and insist on stainless steel, also for the cooking grate.