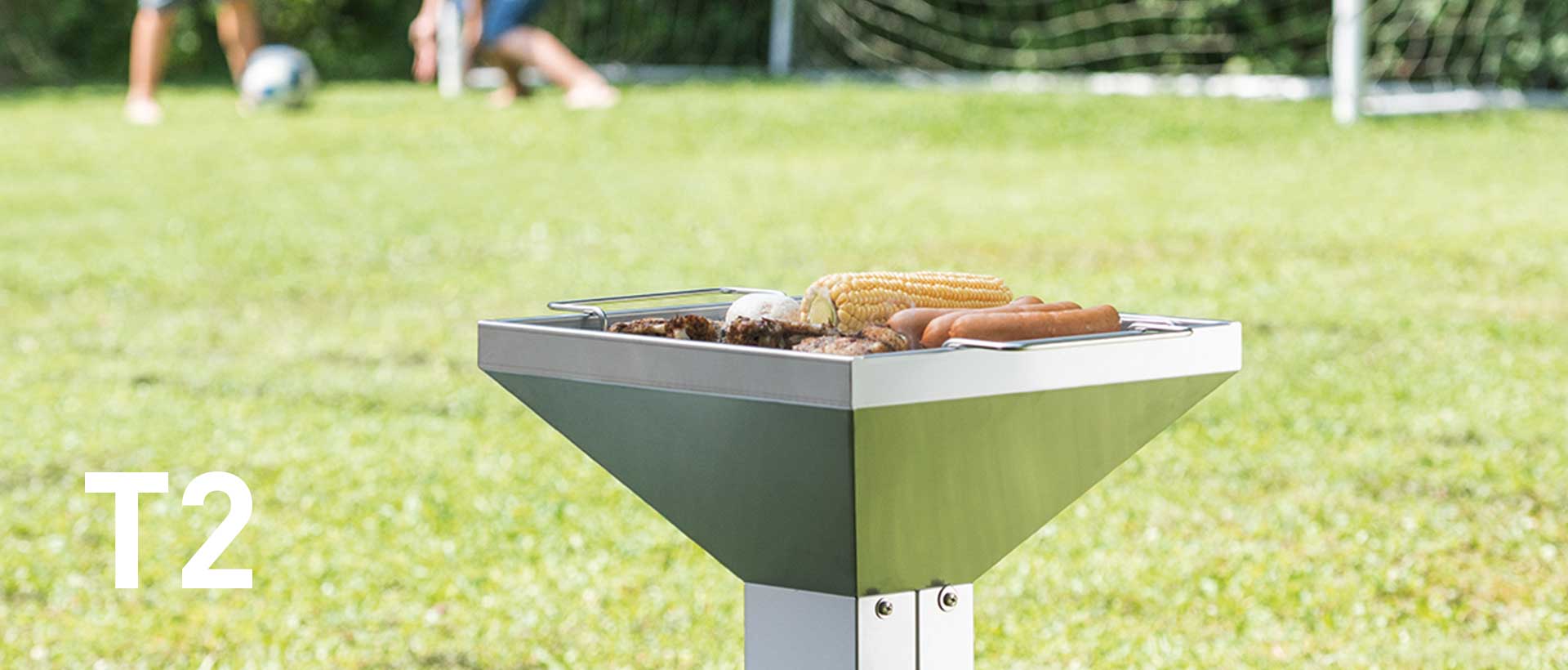 THÜROS T2 stainless steel barbecues
Grillkultur made in Germany
The barbecue that can be left outside in all weathers.
Because it is made of high-quality material, a THÜROS® stainless steel barbecue cannot rust. Equipped with a lid or hood, it can withstand any weather, even rain or snow. The four-legged versions of the fireplace barbecues are universally suitable for solid ground, as well as for meadows or sandy soil. With its covered barbecuing surface, the unit always looks clean.

Note: In principle, all base variants are possible for the combinations presented.
| | |
| --- | --- |
| Manufacture: | Made in Germany |
| Article number: | TKE35 |
| Width: | 37,6 cm |
| Height: | 76 cm |
| Depth: | 37,6 cm |
| Working height: | 76 cm |
| Weight: | 7 kg |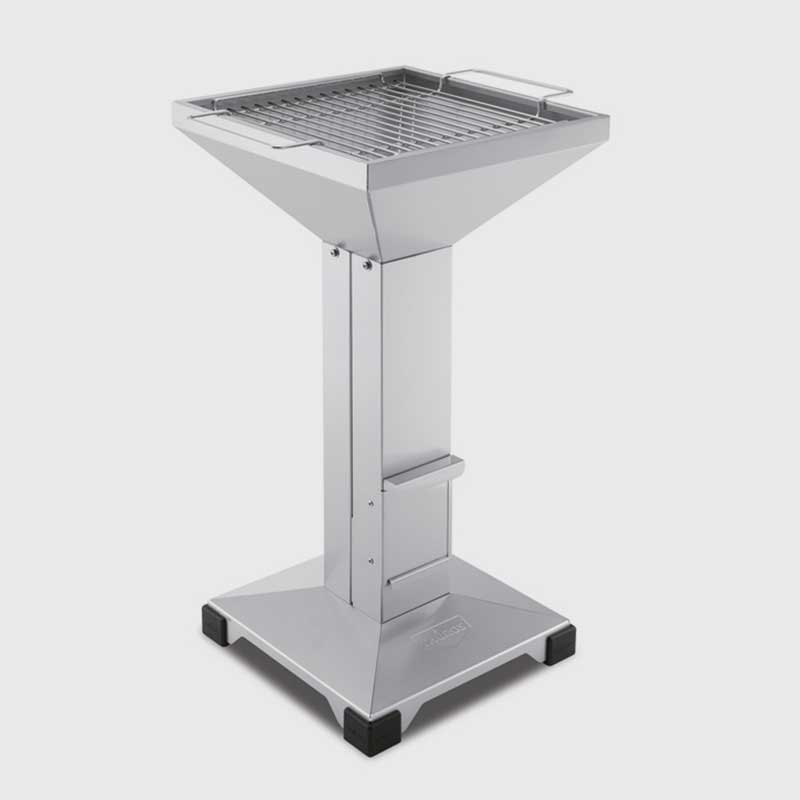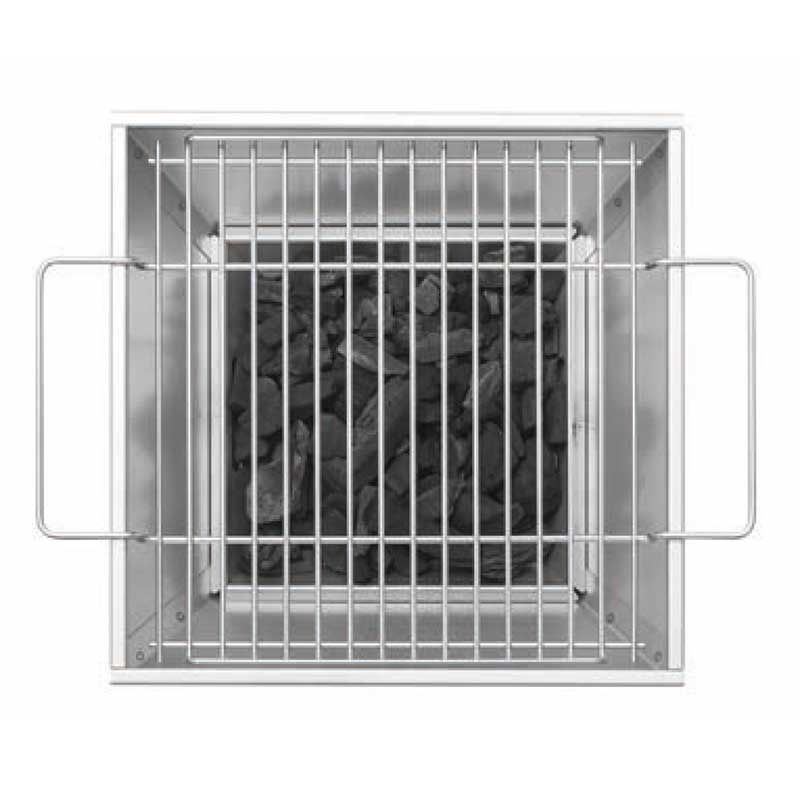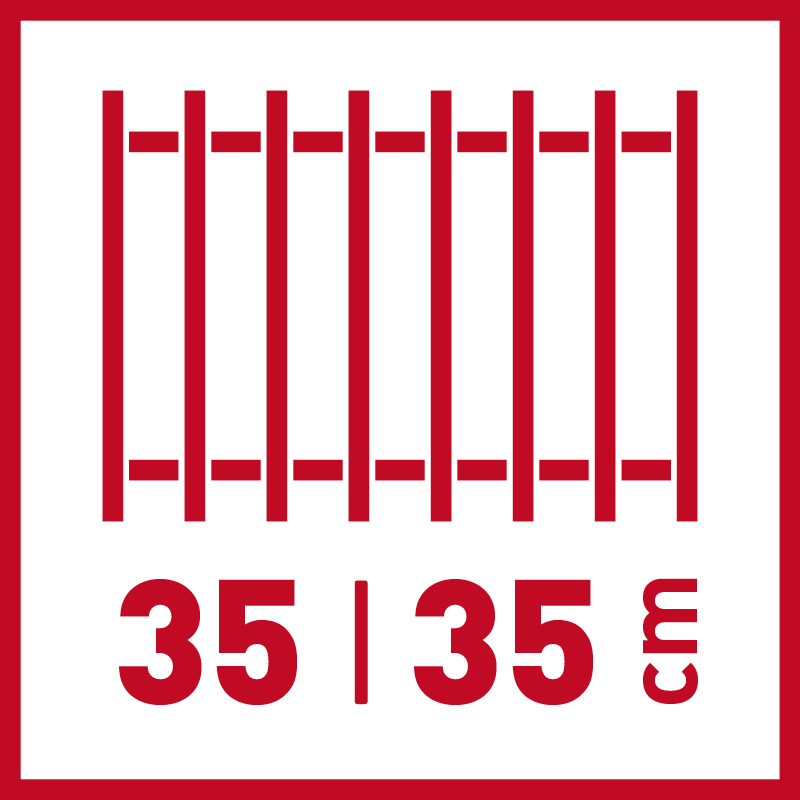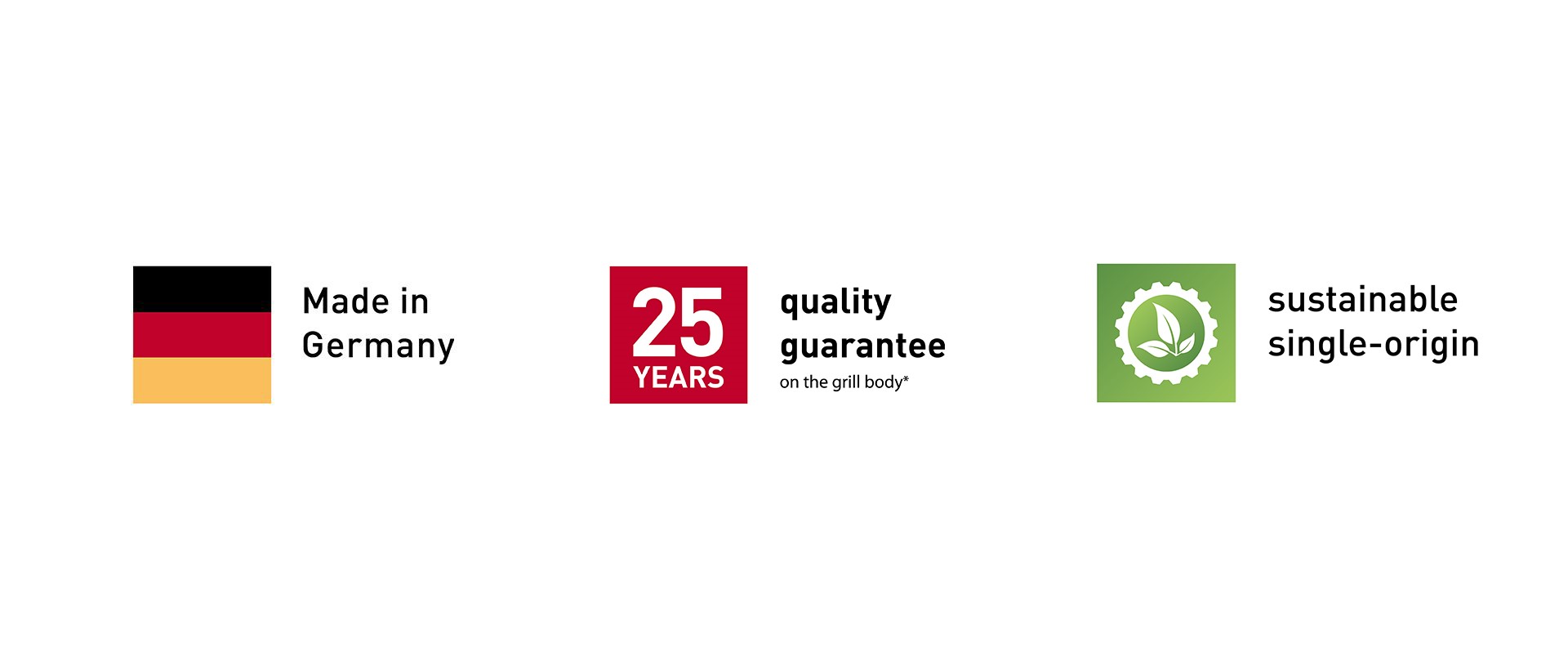 T2 stainless steel barbecue: Example models
This is where you will find a small overview of the models. All THÜROS® T2 stainless steel barbecue models and other designs are available in our shop.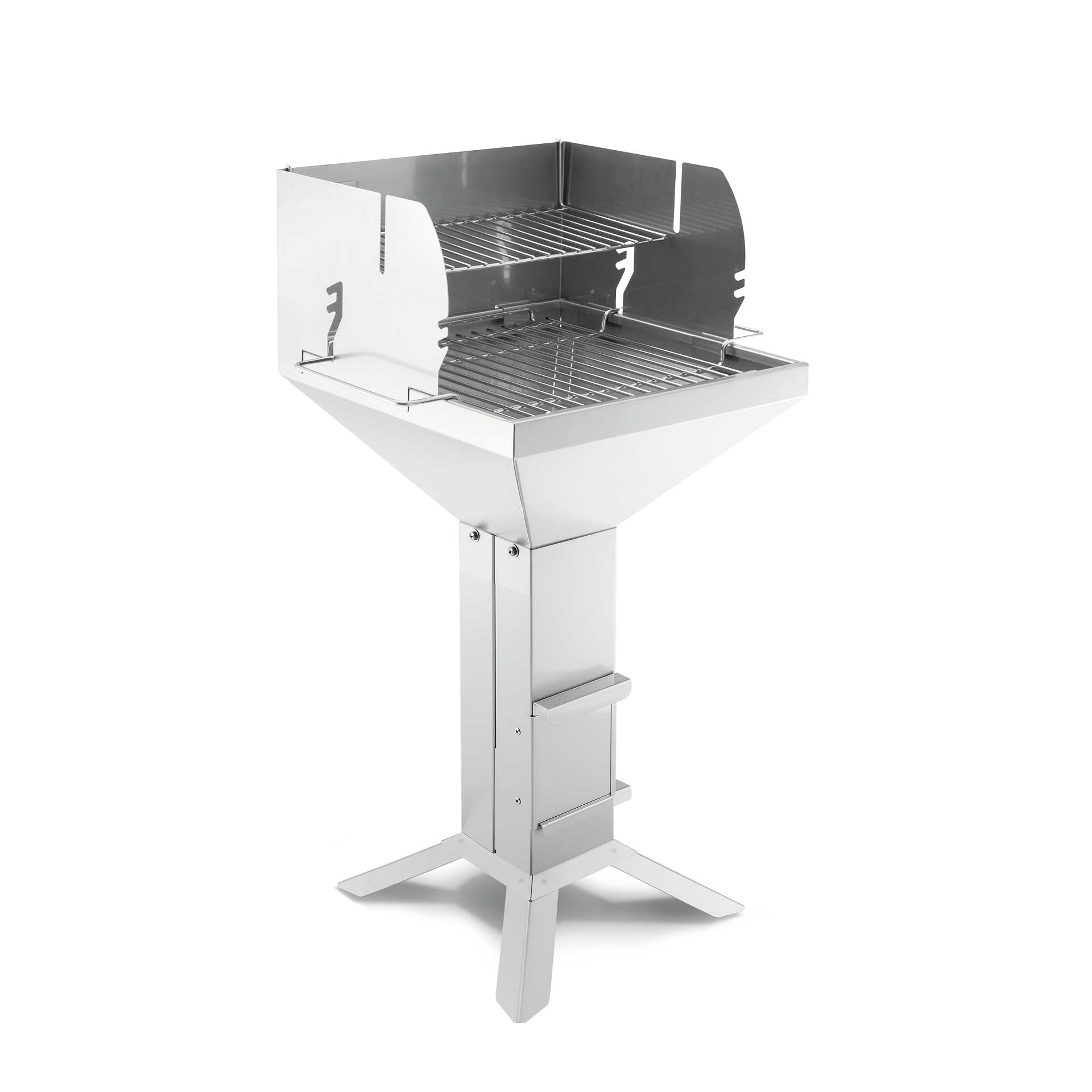 THÜROS T2 Direct Plus four-foot

Our recommendation for direct barbecuing on two levels
The food barbecues evenly thanks to the perfect temperature - even in windy conditions. The barbecue grate (can be handled without gloves) is adjustable in two heights. For example, the second level of the barbecue keeps ready-barbecued food or side dishes warm. So everything can be served together at a pleasant temperature.
Tip: The wind guard attachment is part of the basic equipment for rotisserie barbecuing, or barbecuing with a side heat.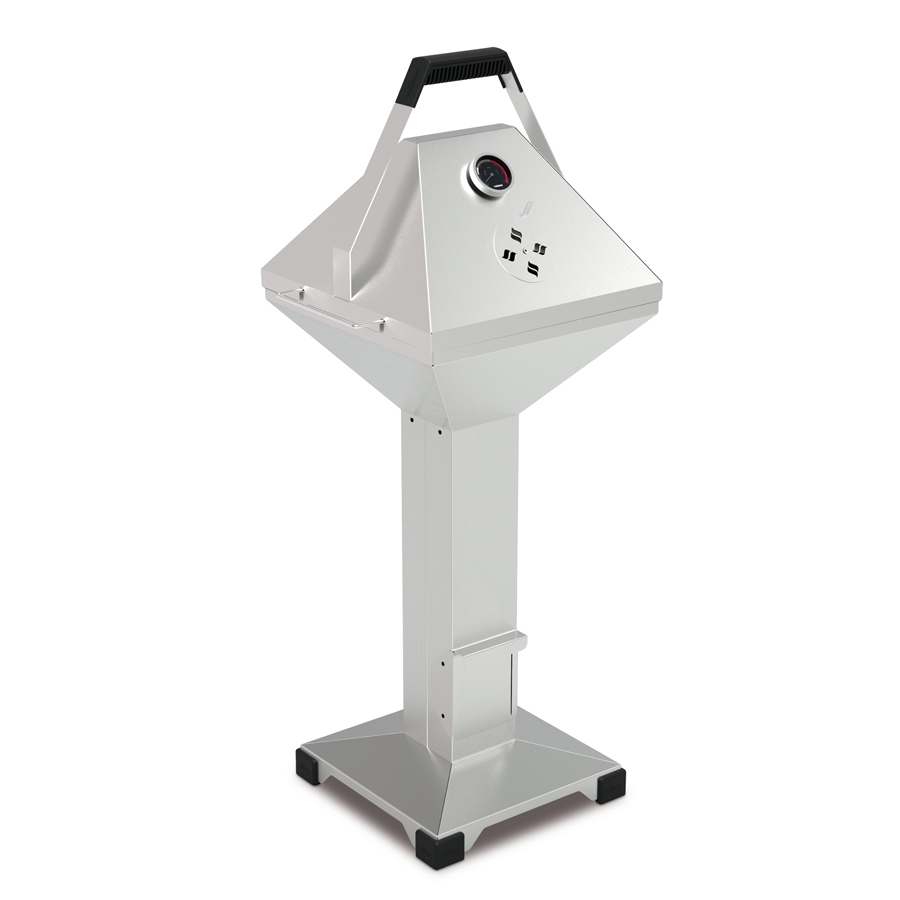 THÜROS T2 BBQ stainless steel barbecue
Our model for direct and indirect barbecuing with a hood on one level
The THÜROS® T2 BBQ is made entirely for barbecuing. It has a matching BBQ hood, a new ergonomic handle and a matching water tray. So you can get started immediately with indirect barbecuing, braising or baking.
Tip: With the water tray, you can divide the barbecue into two heat zones. You can also omit the water tray and fill the entire charcoal tray with charcoal.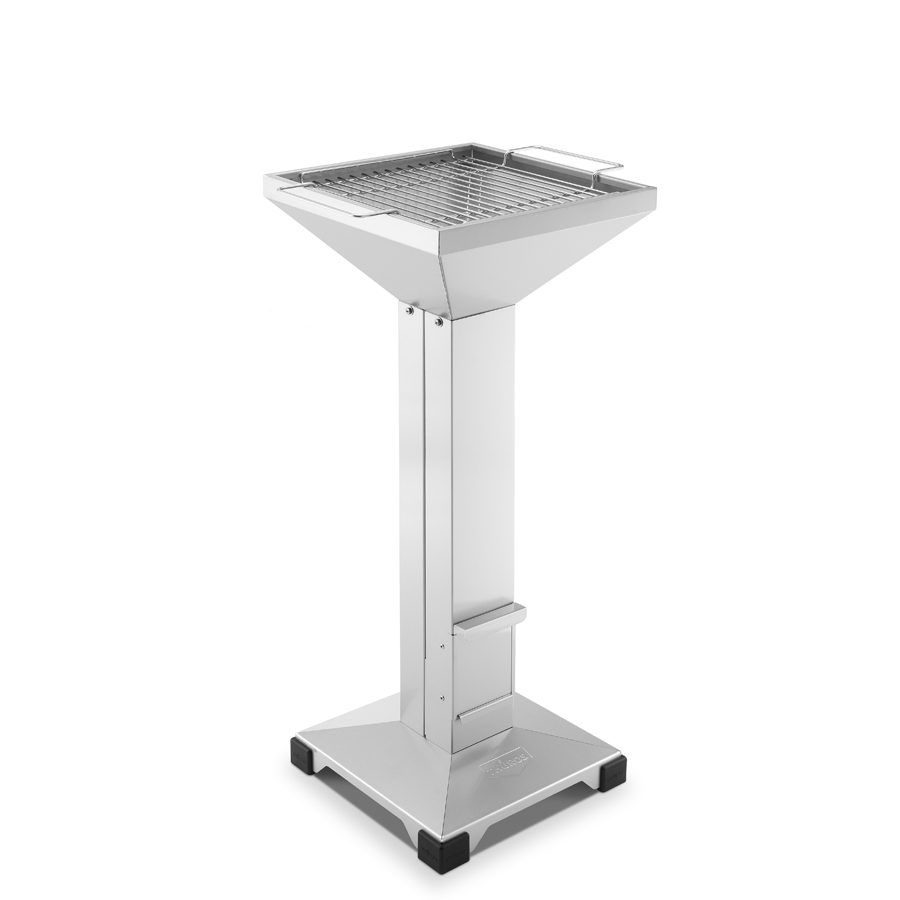 THÜROS T2 XL stainless steel barbecue
Our favourite for tall people
The THÜROS T2 XL stainless steel barbecue with an extra-long charcoal tray has been specially developed for tall people. It has a barbecuing surface of 35 x 35 cm and is the ideal model for families of up to four people. The chimney flue principle regulates optimum air supply.
Tip: The comfortable working height of 95 cm is ideal for ergonomic barbecuing in the garden or on the terrace.

The THÜROS® T2: A flexible classic for family barbecues
The THÜROS® T2 stainless steel chimney flue barbecue has a barbecuing surface of 35 x 35 cm and is therefore perfect for up to four people. The chimney flue principle enables optimum air supply, which is essential for firing up charcoal/briquettes and for optimum temperature control.
The T2 is made of high-quality, anti-magnetic and rust-free V2A stainless steel all around. The grate support is electropolished and therefore food-safe, which makes it easy to clean. The following points are characteristic for our grate supports: Their handles do not get hot during barbecuing, so they can be adjusted or taken down at any time. The chimney flue makes lighting quick and easy, and more heat is generated than with a kettle barbecue, for example.
In addition, our barbecues have a more economical charcoal consumption. You need much less charcoal to reach the desired temperature.

You can choose between the 4-feet and the stainless steel plate base version
Whether with a base plate or four-legged: The THÜROS® T2 consists of three parts that are connected by stainless steel screws. This makes assembly in less than five minutes child's play.
While the base plate is more suitable for flat surfaces, such as paving, the four-footer is a true all-rounder for different types of ground. On grass, you can level out possible unevenness by spiking one or more feet. On gravel, you can restore a firm footing by simply scraping.

Model accessories and extensions for the T2
The THÜROS® T2 stainless steel barbecue can be equipped individually with an extensive range of accessories as well as according to your needs. Whether conventional barbecuing or rotisserie barbecuing – the T2 offers the necessary accessories for every barbecuing method, so that it does not only have to be a smoker, but can also a shish kebab barbecue, for example. It can also easily prepare rotisserie and rolled roasts, poultry or fish. With the matching accessories, you can design your THÜROS® T2 flexibly according to your preferences. When it comes to extensions THÜROS® offers a plug-in module. This means that, with a few exceptions, no accessory is permanently connected to your barbecue. This makes it easy to change them at any time.