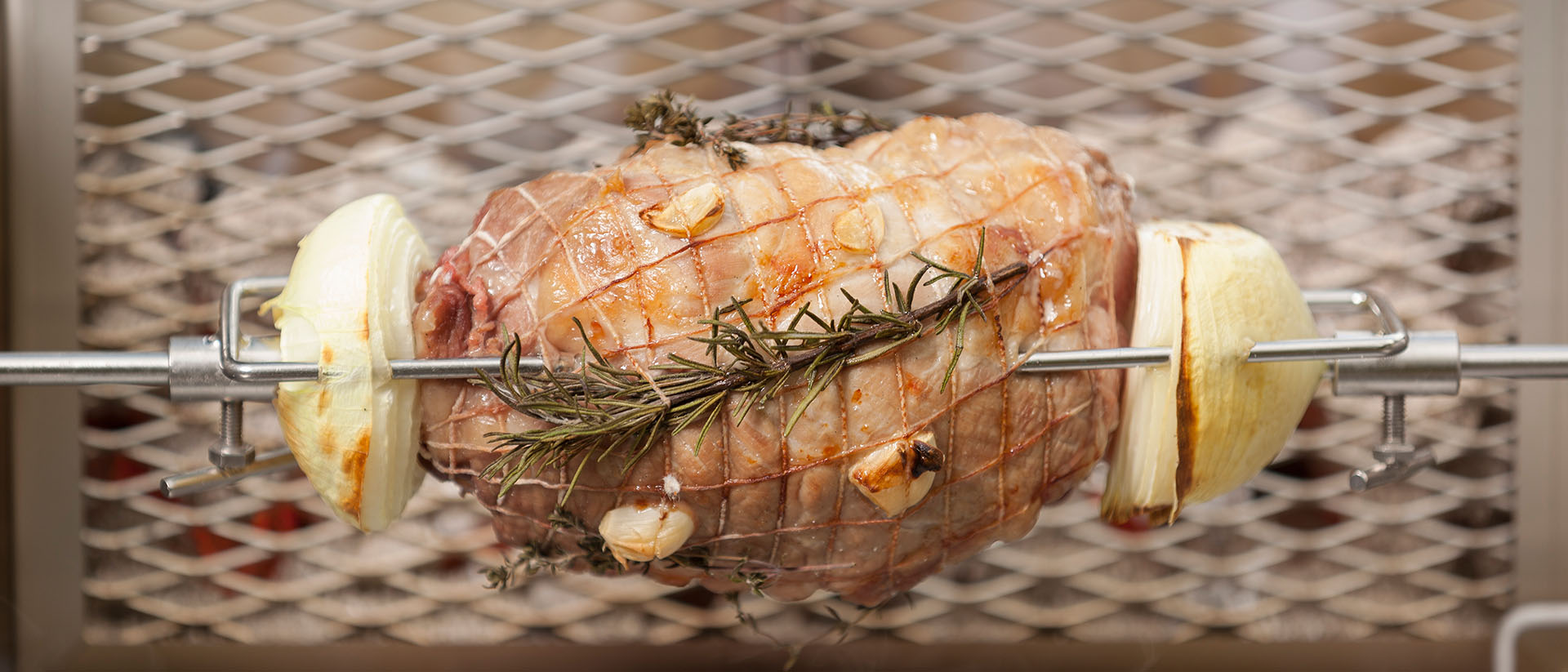 What is indirect barbecuing?
Direct barbecuing means that liquids from the food, like fat, meat liquor and marinades drop into the embers. That causes smoke and sometimes even can cause fire. All that can bother the host, his guests and also the neighbours.



The answer to dripping grease
There is a water pan available for every Thüros barbecue model which, filled with water, can be put into the charcoal tray or the top part of the barbecue. On the left and on the right of the water pan the charcoal is put. So fat etc. is dripping into the water pan. This method works best with the so called barbecue grilling method using a barbecue bonnet or swivel bonnet that can be bought as accessories. Using a barbecue or swivel bonnet, you get the "oven effect", so that the food is cooked evenly and gently all around.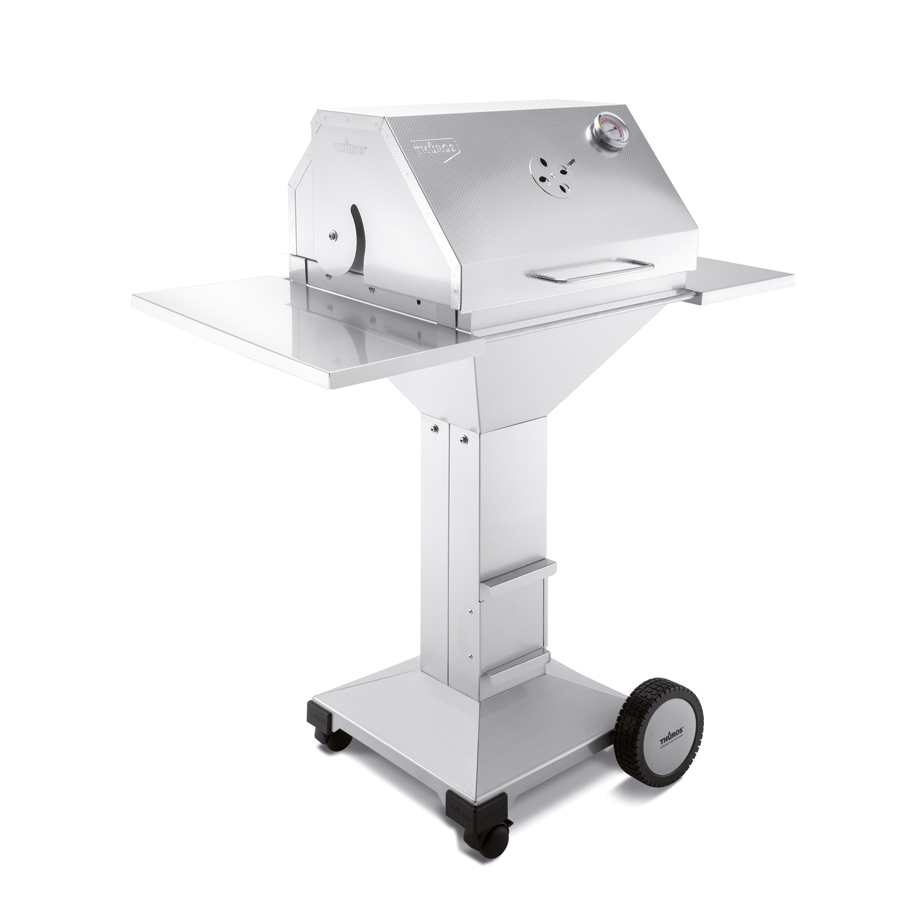 THÜROS T3 BBQ Station
THÜROS T3 BBQ Station – cooking area 42 x 42 cm
The THÜROS T3 BBQ Station is a fully equipped charcoal barbecue. It is based on the sizes of the THÜROS T3 and has all the attachments you need to have a complete barbecue station. The T3 BBQ Station is equipped with a swivelling hood including a special cooking grate, side shelves, a water pan for indirect barbecuing as well as a wheeled base plate.
Two small lockable caster wheels and two bigger wheels on the base plate ensure that the barbecue stays in its place during the cooking and can be moved easilly after cooling down completely.
With this barbecue, two different cooking methods can be used. Either the swivelling hood is closed and the food can be cooked indirect in combination with the water pan, or the hood is open and the food is cooked directly above the charcoals. It can even be used for baking and smoking. For the production of the single components high-quality, anti-magnetic stainless steel is used. The charcoal tray as well as the electropolished and therefore food-safe cooking grate are also made of stainless steel.
In our barbecue stations, the cooking grate can be placed on only one level. This barbecue is mainly used for indirect barbecuing, therefore it is not necessary to have cooking grates of different heights.
Product data:
stainless steel V2A / 4301 flue barbecue
almost pre-assembled, small installation effort
stainless steel skewers
stainless steel charcoal tray
cooking grate made of V2A / 4301 stainless steel, electropolished and food-safe
Needed accessories: /
Recommended accessories: /
Not compatible with: /
Scope of supply:
wheeled base plate, flue, air vents, ash tray, top, charcoal tray, swivelling hood incl. thermometer, special cooking grate without handles, warming rack, side shelves, water pan as well as all needed skewers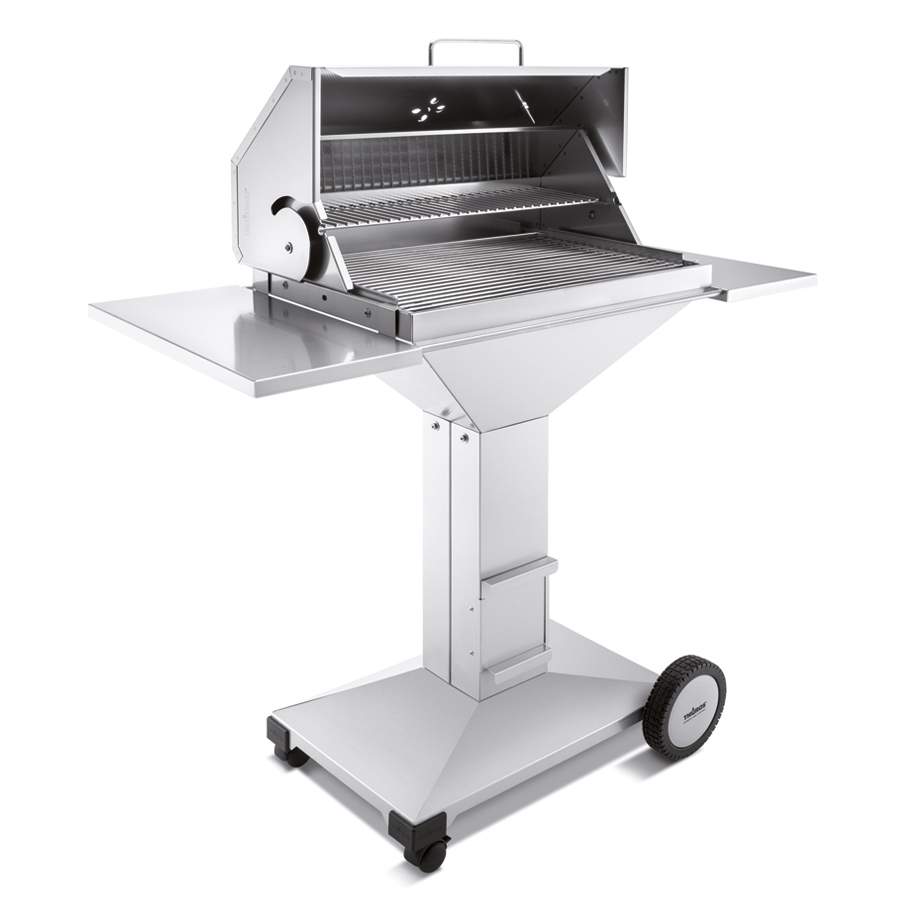 THÜROS T4 BBQ Station
THÜROS T4 BBQ Stainless Steel Charcoal Grill – cooking area 40 x 60 cm
The THÜROS T4 Stainless steel barbecue station is manufactured of high-quality, antimagnetic stainless steel V2A and is durable for a lot of grilling sessions throughout the years. Not only the grill body, even the charcoal tray as well as the cooking grate are made of high-quality stainless steel. In addition, the cooking grate is electropolished as well as food-safe. It eases the cleaning when handling it properly.
All THÜROS Garden Grills are designed with a flue to use the centuries-old tradition of the flue draught principle. The adjustable air vent at the bottom of the flue ensures a quick and easy heating up of charcoal. When opening it to the maximum, the charcoal will be provided with oxygen permanently. Thus, it burns hotter as well as better. The temperature can be controlled by adjusting the air vent to get more or less oxygen flowing.
A great advantage of the THÜROS T4 BBQ is that the T4 is already fully equipped for barbecuing. With the BBQ Hood (BBQH4060) which has an ergonomic handle and a suitable water pan (WS4260E) you can start to grill indirect right away.
Due to modular attachments you can expand your THÜROS T4 barbecue how you prefer it at any time. Limits are only set by your imagination.
Product data:

flue barbecue made of stainless steel V2A / 4301
easy and quick assembly, small installation effort
stainless steel base plate with corner protectors
all screws are made of stainless steel
charcoal tray made of 1,5 mm stainless steel sheet
cooking grate made of stainless steel V2A / 4301, electropolished and food-safe
measures without attachments (height x width x depth): 86 cm x 62 cm x 42 cm, width including cooking grate handles 72 cm
Needed accessories: /
Recommended accessories: /
Not compatible with:
Note! To use other attachments, the BBQ Hood has to be detached from the barbecue.
Scope of supply:
base plate, flue, air vent, ash tray, top, booster, charcoal tray, water pan, cooking grate, BBQ Hood incl. thermometer as well as all needed screws