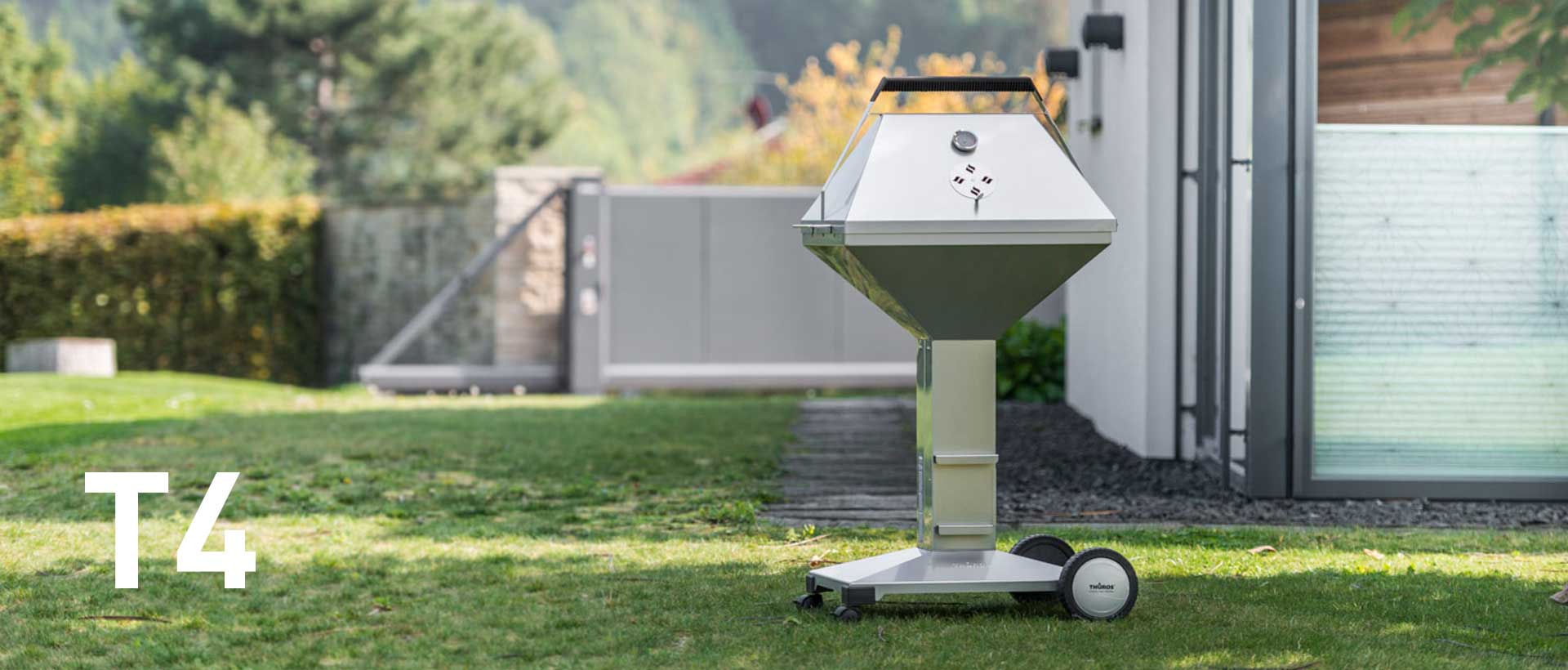 THÜROS T4 stainless steel barbecues
Grillkultur made in Germany
The barbecue that can be left outside in all weathers.
Thanks to its high-quality stainless steel, a THÜROS® stainless steel barbecue does not rust. Equipped with a lid (or hood), it is also protected from all weather conditions. As a four-legged version, our fireplace barbecues are universally suitable for flat ground as well as for meadows or sandy ground. With their covered barbecuing surfaces, the units always look clean.

Note: The featured combinations are also available with a slab base.
| | |
| --- | --- |
| Manufacture: | Made in Germany |
| Article number: | TKE4060 |
| Width: | 62,5 cm |
| Height: | 86 cm |
| Depth: | 42,5 cm |
| Working height: | 86 cm |
| Weight: | 16 kg |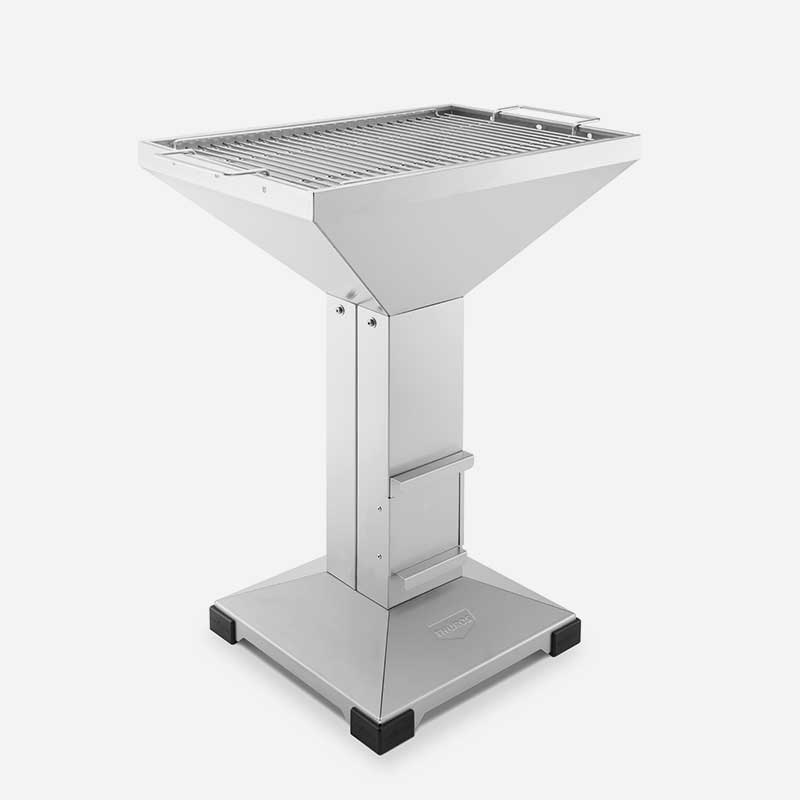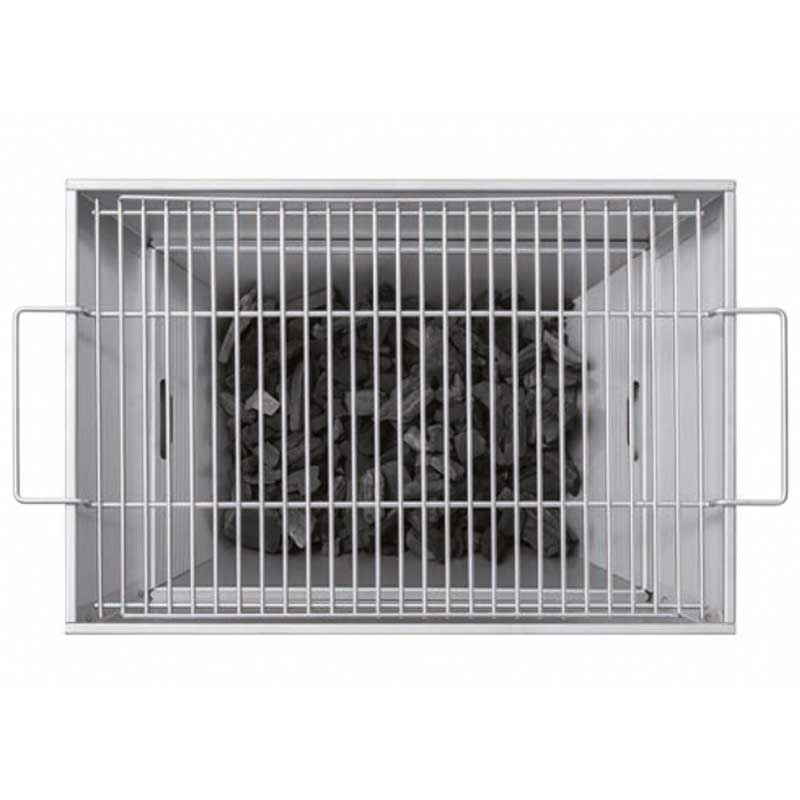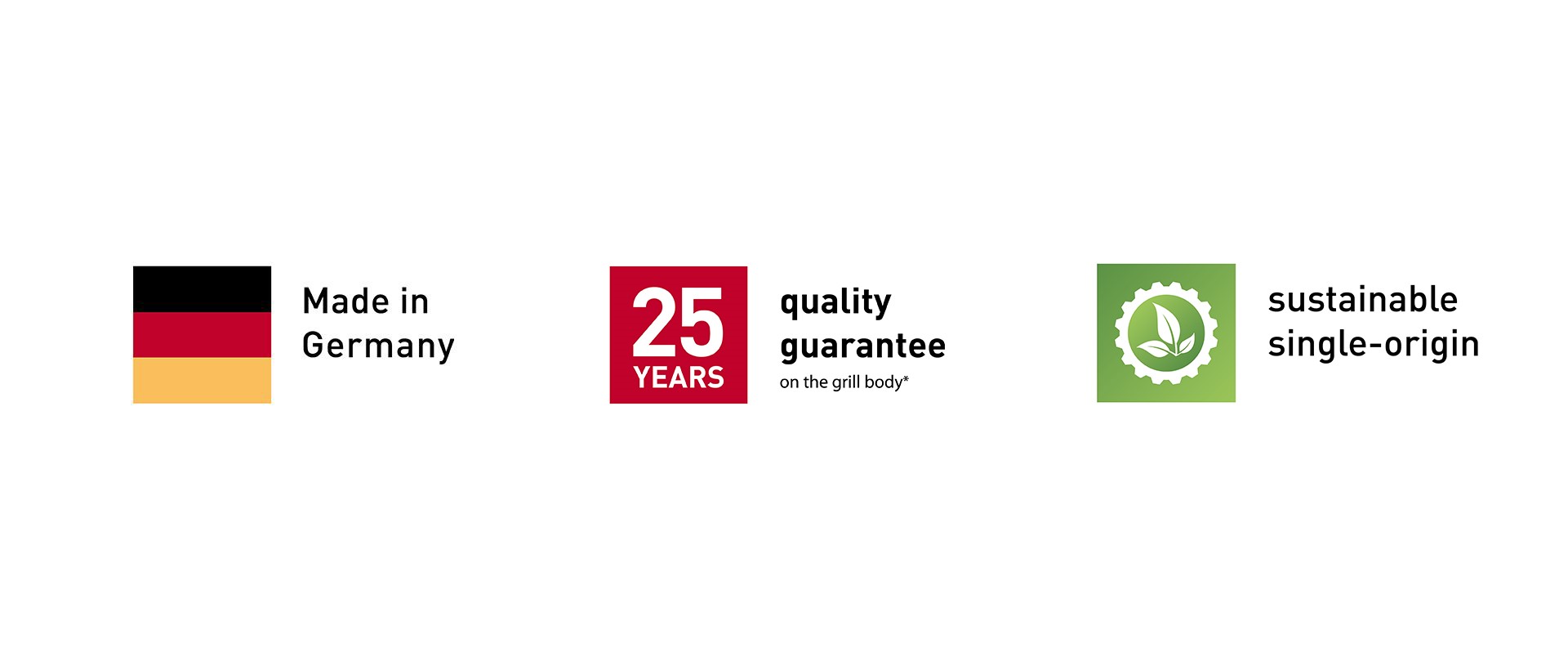 T4 stainless steel barbecue: Example models
This is where you will find a small overview of the models. All THÜROS® T4 stainless steel models and other designs are available in our shop.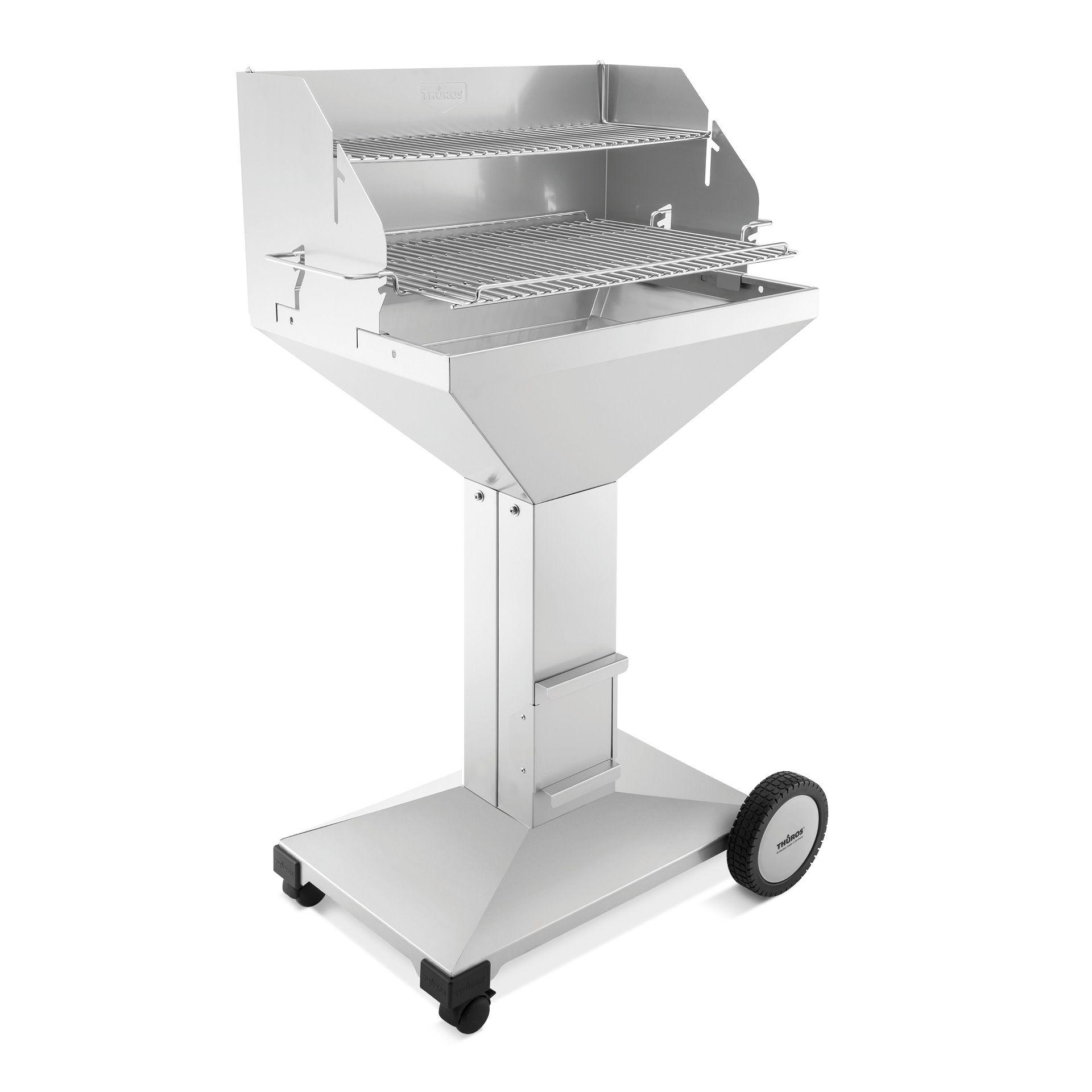 THÜROS® T4 Direct Plus mobile stainless steel barbecue
Our recommendation for direct barbecuing on two levels


The temperature of the embers barbecues the food evenly - even in windy conditions. The double adjustable barbecue grate is easy to handle, even without gloves. Use the second level of the barbecue, for example, for finished barbecued food or to keep your side dishes warm. This way, at the end, you can serve everything together at a pleasant temperature.

Tip: The wind guard attachment is part of the basic equipment and enables rotisserie barbecuing with a motor and side heat.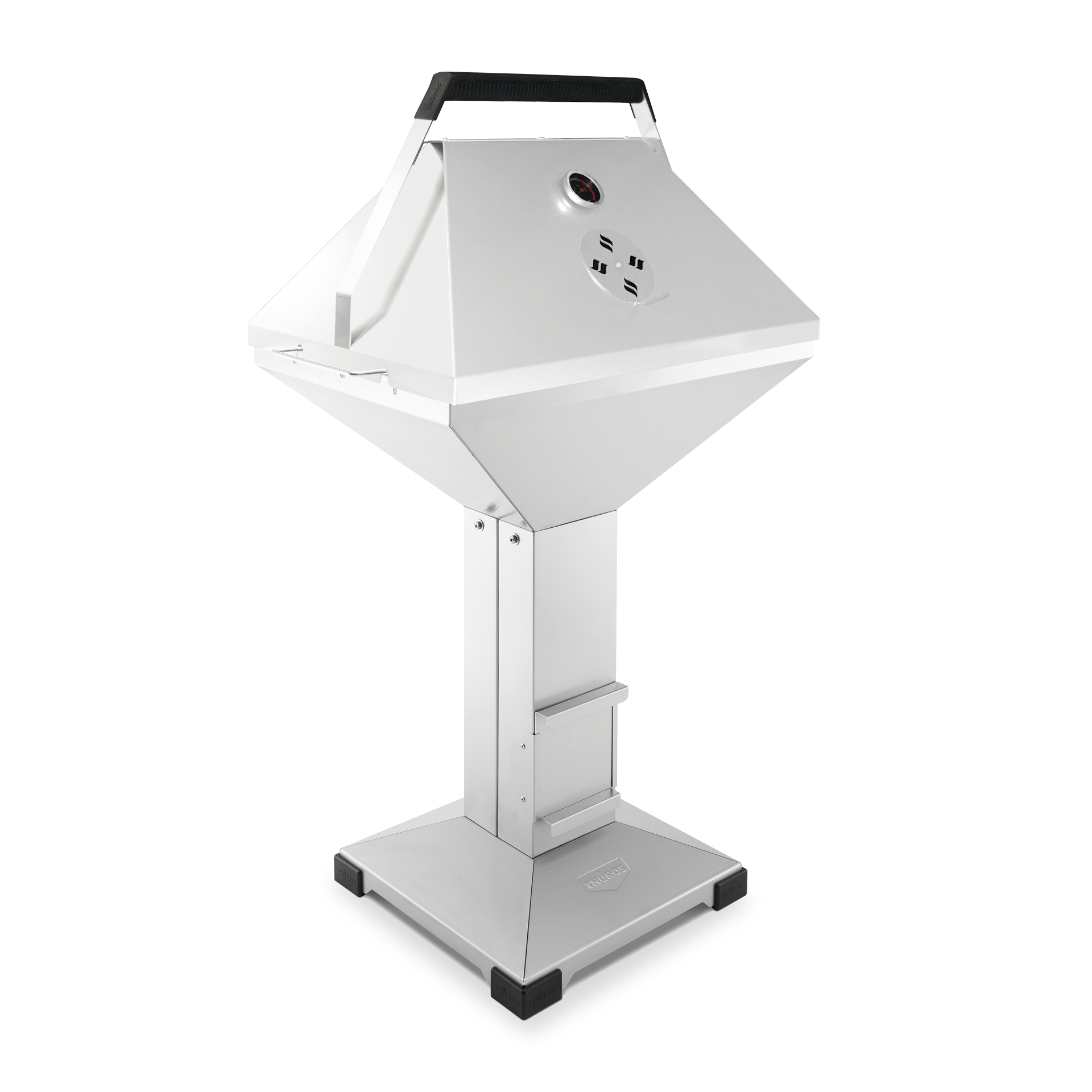 THÜROS® T4 BBQ stainless steel barbecue
Our model for direct and indirect barbecuing with a hood on one level


The THÜROS® T4 BBQ is entirely designed for barbecuing. It has a beautifully shaped BBQ hood with a new ergonomic handle and a matching water tray. This allows for uncomplicated indirect barbecuing, braising or baking - without any time-consuming preparation.
Tip: With the water tray, you can simply divide the barbecue into two heat zones. Alternatively, leave out the water tray and use the entire charcoal tray with charcoal.

THÜROS® T4 Pizza stainless steel barbecue
Our favourite for juicy pizza or tarte flambée, just like from a stone oven


For pizza like those at the Italian restaurant and tarte flambée like the ones from the Alsace: With the oven stone of the THÜROS® T4 pizza barbecue, you will easily succeed. The fireclay brick is heat-resistant up to 1400°C. It ensures optimum heat emission, even after the embers have gone out. The thermometer on the hood and the air slide on the shaft guarantee that you always have the temperature firmly under control. Of course, you can also use a stainless steel barbecue to prepare other barbecued food. The stainless steel oven stone holder can be easily removed and is dishwasher safe.
Tip: The BBQ hood is also practical protection against weather (for year-round outdoor use). Keep the oven stone clean with a thin sheet of metal or baking paper.
The THÜROS® T4: Variable in terms of surface areas and its many functions
The THÜROS® T4 stainless steel barbecue has a barbecuing surface of 40 x 60 cm and is therefore the ideal barbecue for families of two or more. The chimney draft principle enables optimum air supply – indispensable for firing up charcoal/briquettes and for individual temperature control.

With the stainless steel divider included in the THÜROS® T4 the barbecuing surface can be reduced if necessary, so that this model is also suitable for cosy barbecues with fewer people. If you have planned a barbecue with more guests, you can simply leave out the divider and use the entire barbecue surface. Parties of ten or more people are no problem.

The T4 is made of high-quality, anti-magnetic, rust-free V2A stainless steel. The barbecue surface is electropolished and therefore food-safe, which makes cleaning easy. The handles do not become hot during barbecuing, so that the grate support can be adjusted or lowered at any time. The chimney flue makes lighting a breeze and the development of heat is much greater than with a kettle barbecue.

Like all our barbecues, the THÜROS® T4 has economical charcoal consumption, so it needs much less charcoal to reach the desired temperature.

You can choose between the 4-feet and the stainless steel plate base version
Whether mobile or with a classic stand: The barbecue consists of three parts that are connected by stainless steel screws. It can be assembled in less than five minutes. If you opt for the mobile version of the T4, it is particularly easy to move your barbecue to its place or to transport it over a pavement. The unit also stands securely on grass, as long as it is not sloping too much. The plate has two large wheels connected by an axle and two small locking castors.

Model accessories and extensions for the T4
The THÜROS® T4 stainless steel barbecue can be individually and flexibly equipped with an extensive range of accessories. Whether conventional barbecue or rotisserie barbecuing – the T4 offers the right equipment for every barbecuing method, so that it can also be transformed into a smoker or shish kebab barbecue in no time at all. It can also easily prepare rotisserie and rolled roasts, poultry or fish. Design your T4 according to your wishes with the matching accessories. THÜROS® offers an ingenious plug-in module principle when it comes to extensions. With a few exceptions, no accessory is permanently attached to your barbecue, making it easy to change at any time.