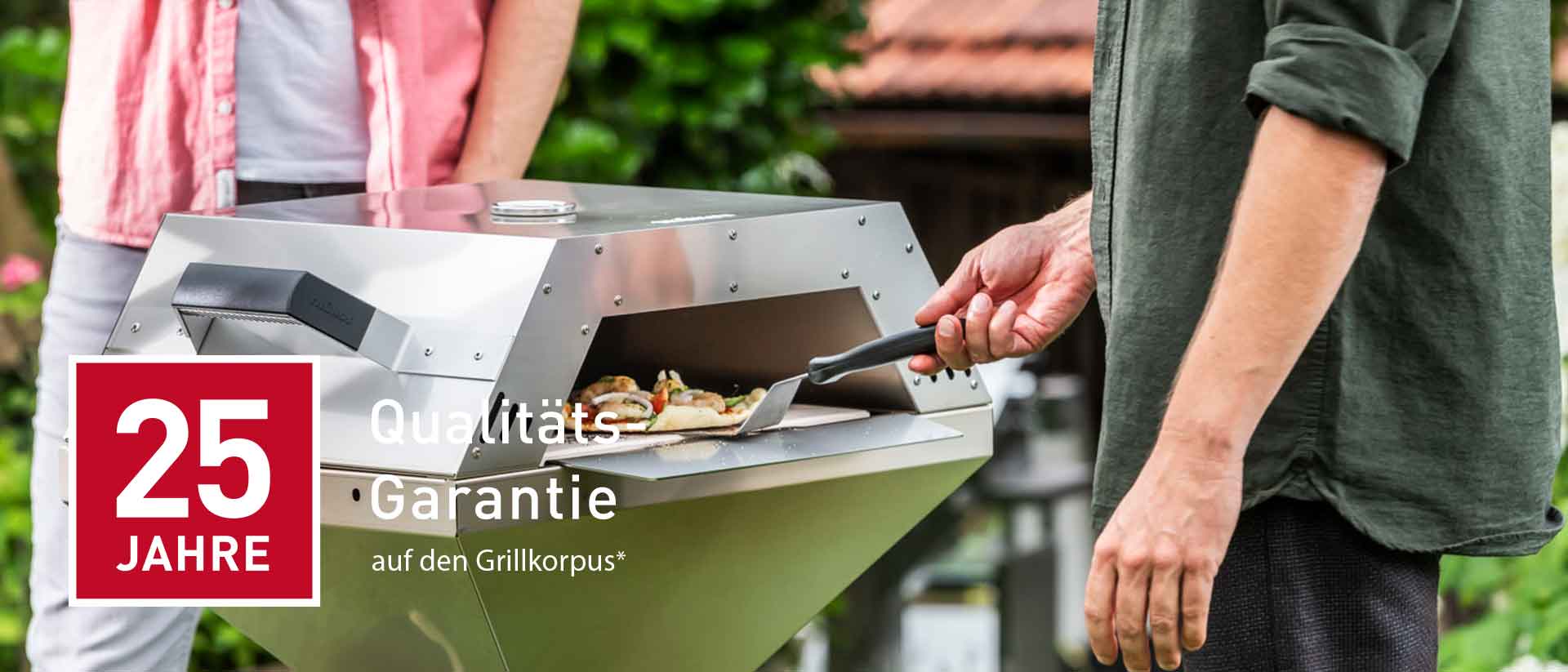 Grill quality - made in Germany - with 25 years guarantee on a THÜROS barbecue produced since 2017
THÜROS as the leading manufacturer of stainless steel barbecues in Germany meets highest quality standards in the processing of high-grade stainless steel materials.

When buying a THÜROS® grill, you gain a high-quality premium grill including 25 years guarantee on the stainless steel grill body.

THÜROS uses only anti-magnetic and rost-free stainless steel 1.4301 (AISI304). All of our grill parts are cut and shaped with state-of-the-art laser technology. Our production combines automation with traditional handicraft and know-how.
To ensure a long lasting satisfaction with your premium THÜROS® barbecue, correct usage with the grill and its attachments is a basic prerequisite.
Further quality features of THÜROS® barbecues are:

cooking grates made of rust-free stainless steel 1.4301 (AISI304), electro-polished and food-safe
easy assembly because of max. x8 screw connections
integrated flue draught effect – the guarantee for quick heating up without the use of blowers or the like, our barbecue works the same as a chimney starter
wide ranging and thought out grill system right down to the smallest details, useful attachments enable all kinds of barbecuing (direct barbecuing, barbecuing, indirect barbecuing, lateral indirect barbecuing and many more)
The exact information regarding the guarantee for THÜROS® grill products can be found in the following chart or in the warranty terms in our service booklet.

The granted THÜROS® guarantee of 25 years on the stainless steel grill body as well as stainless steel grill attachments will not affect the 2 years of statutory warranty starting from the handover of the THÜROS® products which are bought within the European Union. If a guarantee claim accures, the retailer where the product has been bought, is responsible.

The statutory warranty is not limited by the voluntary given warranty of THÜROS® and exists independent to the statutory extent. For a warranty processing, please contact our THÜROS customer service via email shop@thueros.com or phone +49 36253 366 0.