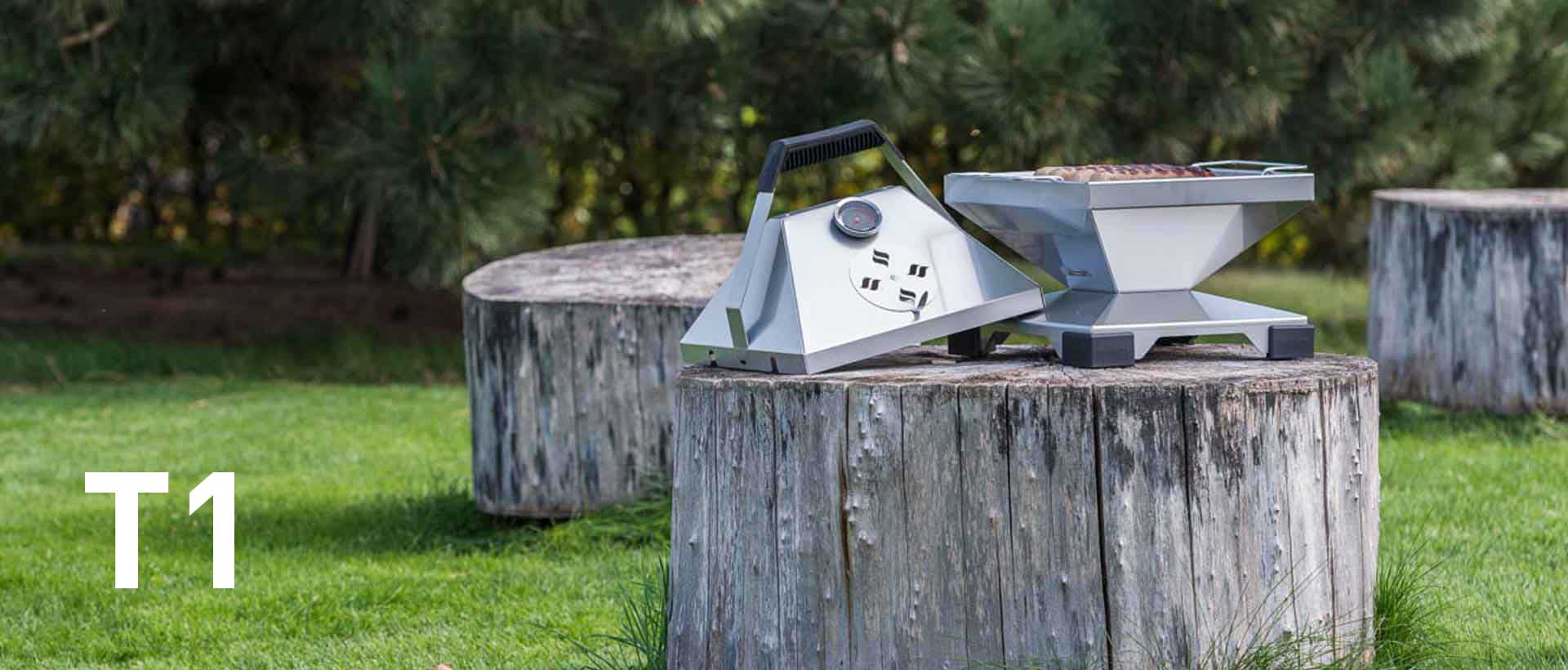 THÜROS T1 stainless steel barbecue
Grillkultur made in Germany
The perfect table barbecue for your terrace or camping holiday.

Thanks to its high-quality stainless steel, a THÜROS® stainless steel barbecue cannot rust - and if it has a lid or hood, the rain or snow won't get inside either. The stainless steel stand with scratch protection is universally suitable for flat surfaces, as well as for the table or garden.

Note: The plastic corners attached to the stand protect even the most delicate surface from scratching.


| | |
| --- | --- |
| Manufacture: | Made in Germany |
| Article number: | TTE30 |
| Width: | 32 cm |
| Height: | 22 cm |
| Depth: | 32 cm |
| Working height: | 22 cm |
| Weight: | 3,5 kg |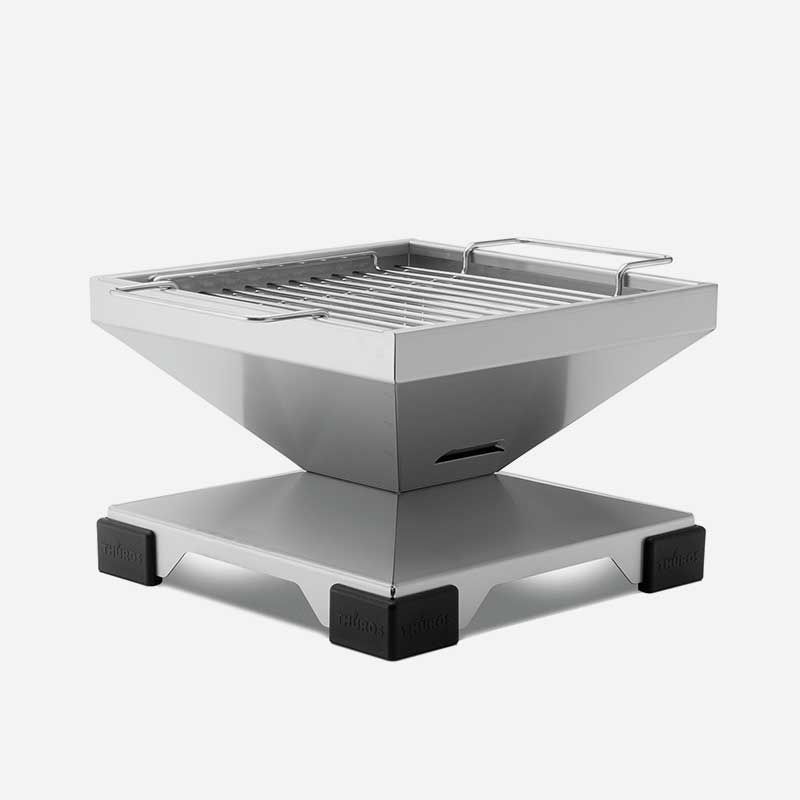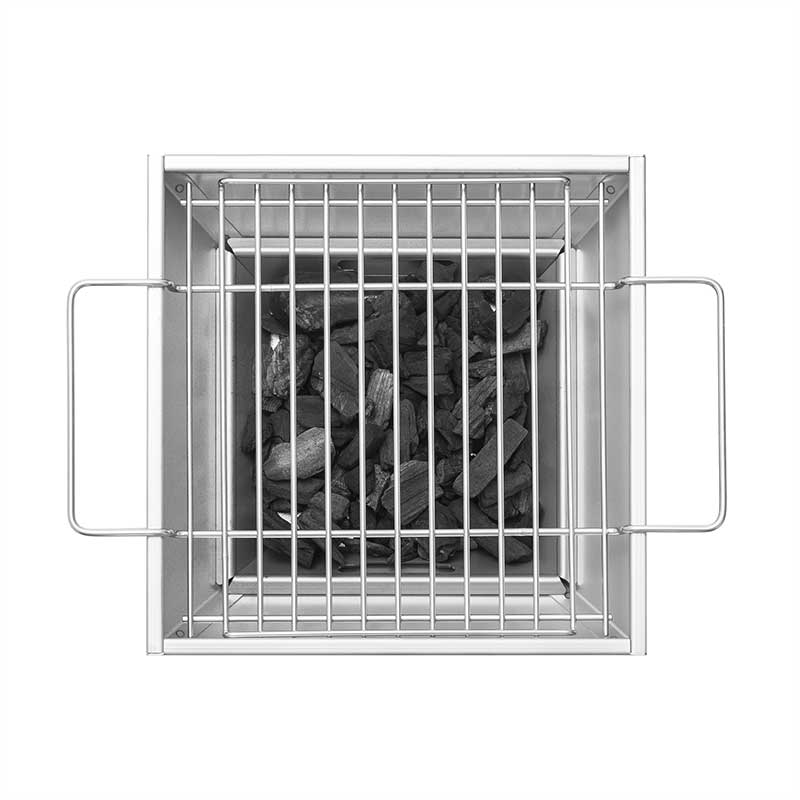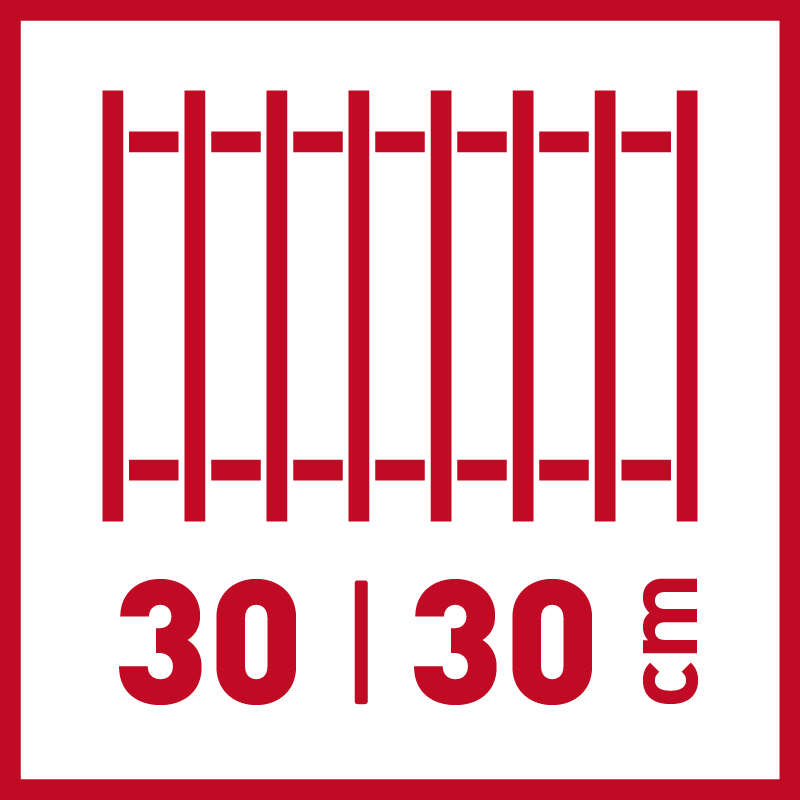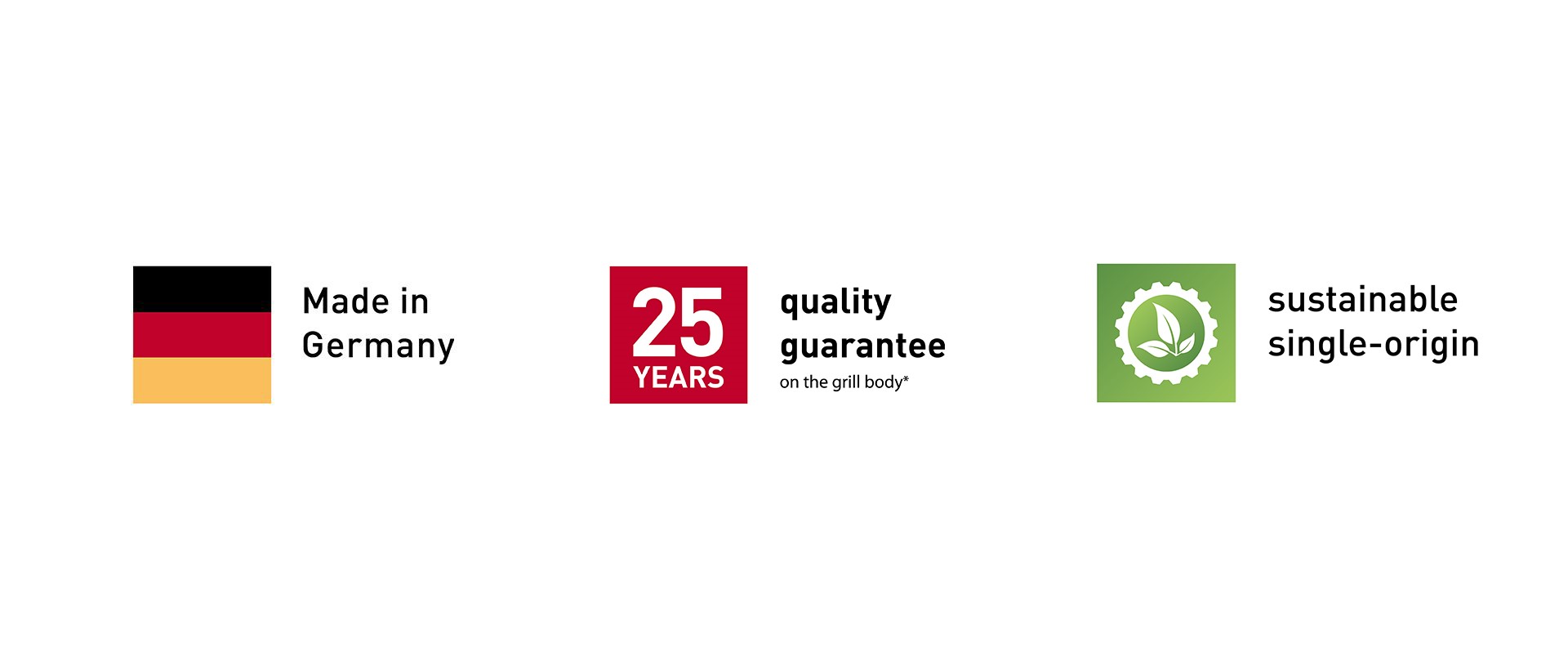 T1 stainless steel barbecue: Example models
This is where you will find a small overview of the models. All THÜROS® T1 stainless steel barbecue models and other designs are available in our shop.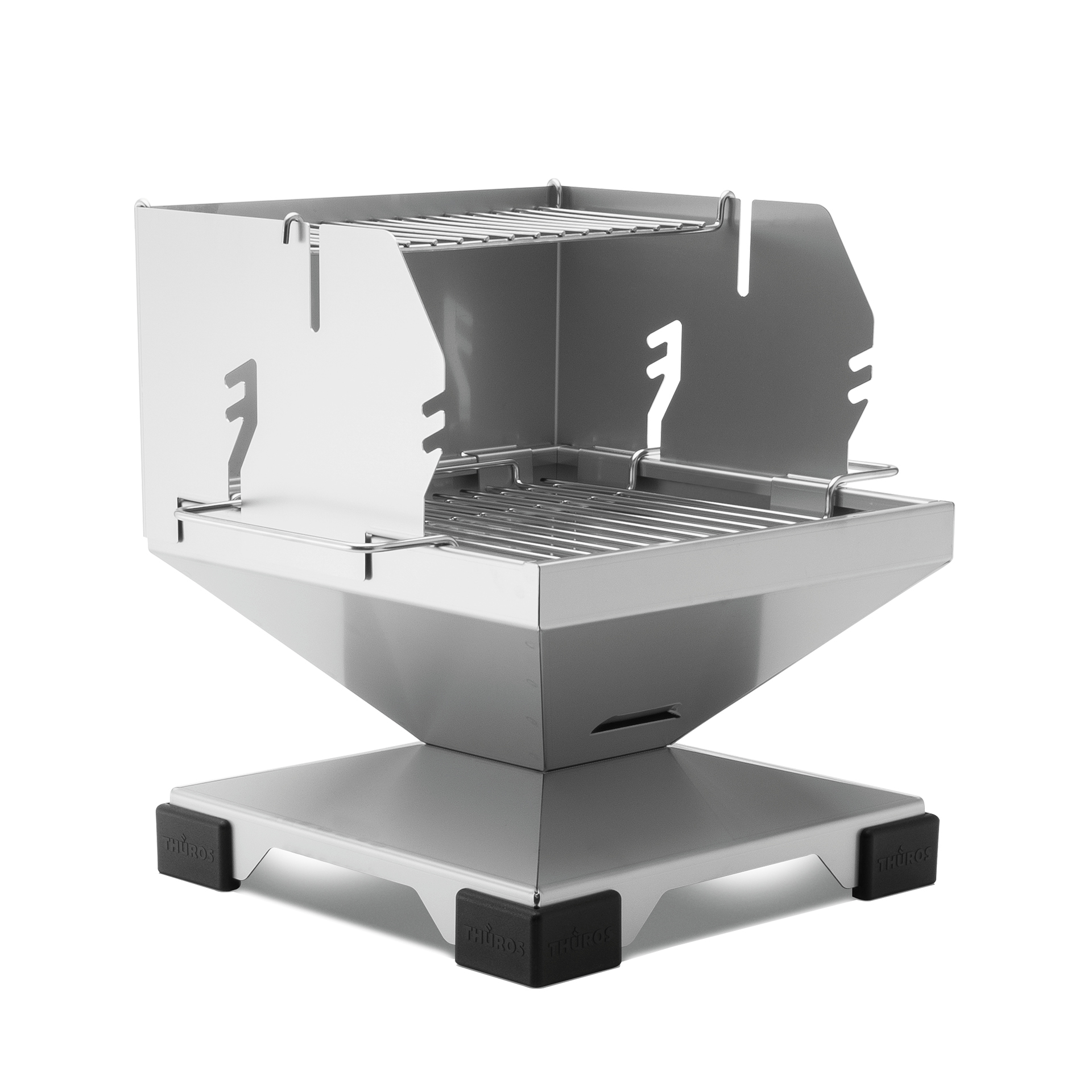 The THÜROS T1 Direct Plus stainless steel barbecue
Our recommendation for direct barbecuing on two levels
For: direct barbecue

The temperature of the embers barbecues the food evenly - even in windy conditions. The barbecue grate (thanks to stainless steel, no gloves are necessary) can be adjusted to two heights. For example, the second level of the barbecue keeps side dishes or ready-barbecued food warm. This way, everything arrives on the table at a pleasant temperature.

Tip: The wind guard attachment is part of the basic equipment for rotisserie barbecuing, with a motor and side heat.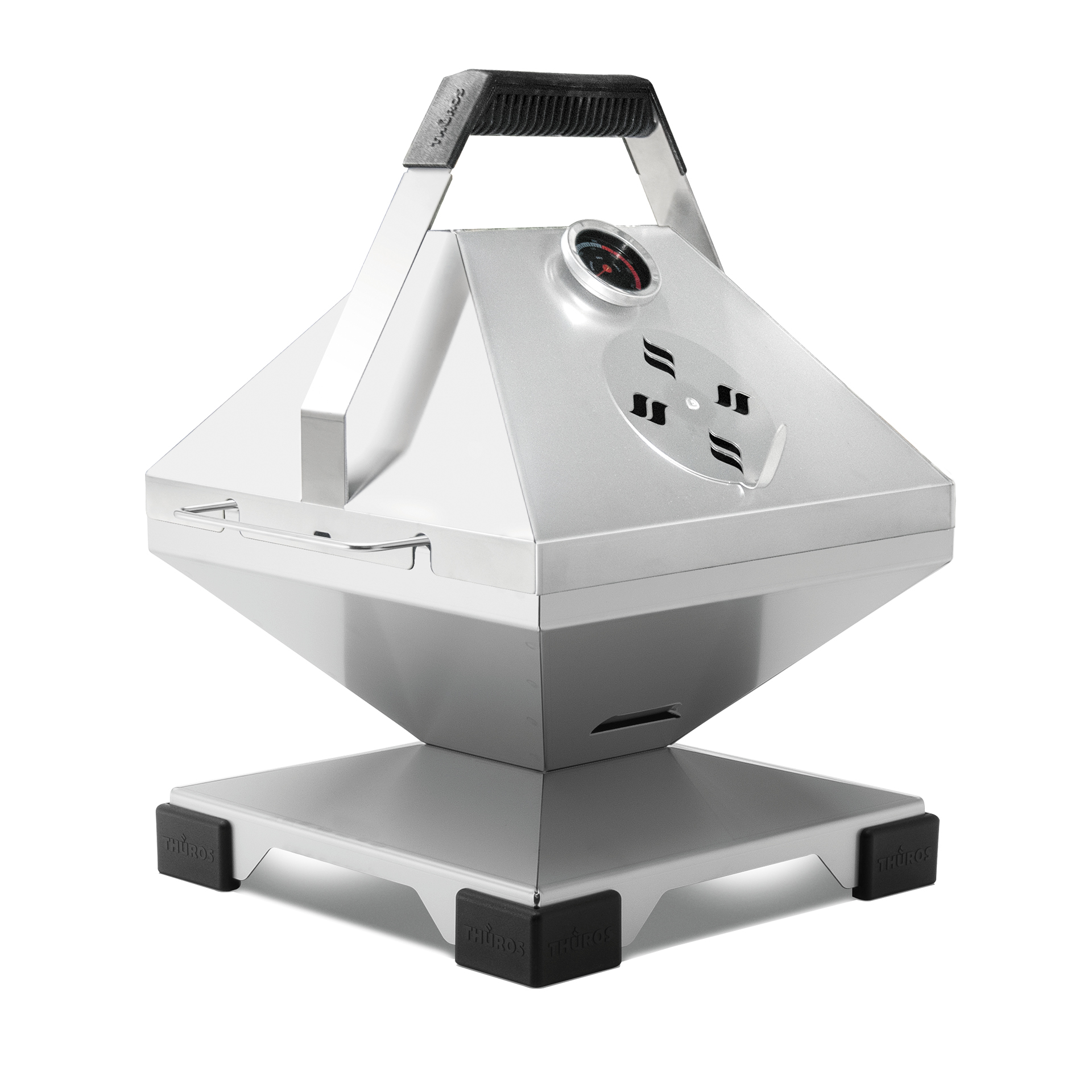 The THÜROS® T1 BBQ stainless steel barbecue
Our model for direct and indirect barbecuing as well as braising and baking with a hood

The THÜROS® T1 BBQ offers the perfect conditions for barbecuing. Equipped with a BBQ hood, a new ergonomic handle and a matching water tray, it makes indirect barbecuing, braising or baking uncomplicated.
Tip: With the water tray, you can divide the barbecue into two heat zones. Alternatively, leave out the water tray and fill the entire charcoal tray with charcoal.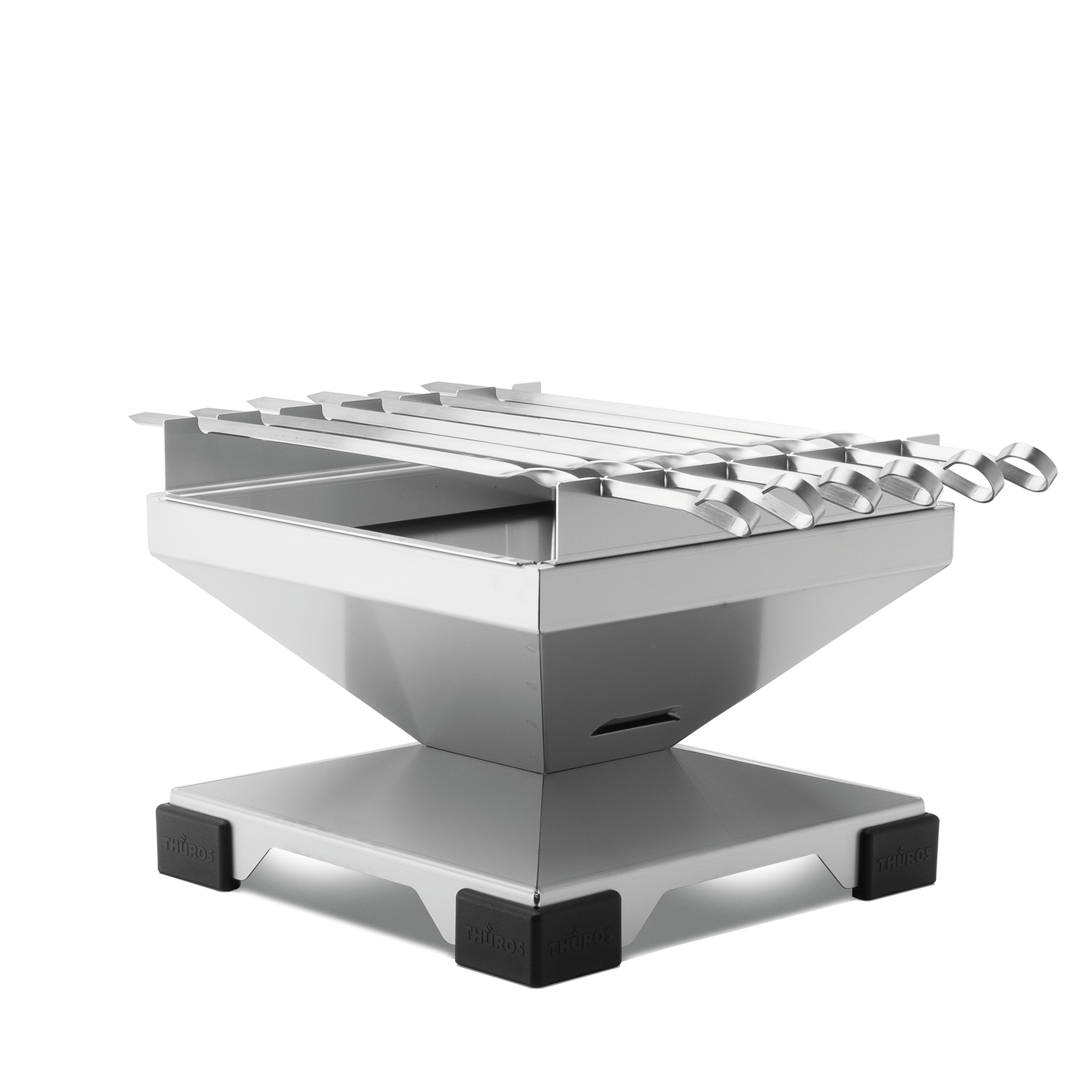 The THÜROS® T1 shish kebab stainless steel barbecue
Our favourite for juicy shish kebabs with meat or vegetables
With the shish kebab attachment and the accompanying six skewers, you can easily prepare delicious creations. The one-sided twisted shish kebabs are electropolished, food-safe and allow you to rotate them 360° without any effort.
Tip: Heat the THÜROS® T1 stainless steel barbecue to approx. 180 °C-200 °C. The skewers need about 20-25 minutes at this temperature.

The THÜROS® T1: Small, compact and versatile – for every table

The THÜROS® T1 brings the barbecue experience directly to the table. With its barbecuing surface of 30 x 30 cm, it offers enough space for barbecuing with friends and family. Small barbecue "big style" - as the T1 can be expanded at any time with our extensive range of accessories. The only limit is your imagination. For example, you can turn your table barbecue into a small smoker cabinet or a BBQ. Rotisserie barbecuing is also one of the many possibilities available to you with the right attachment. The T1 is so compact that after use and cooling down, you can easily put it in a standard dishwasher. This also applies to the electropolished and food-safe grate support, which allows for easy cleaning.

With its height of 22 cm, the THÜROS® T1 is the ideal table-top camping barbecue. As with the floor-standing barbecues in the T line, all sharp edges have been placed on the inside. The barbecue has a reinforced grate support with a longitudinal strut and a ring. This means that your barbecued food remains securely in place, even when you add more charcoal. The small, compact T1 is made of high-quality, anti-magnetic and rust-free V2A stainless steel. The handles of the grate support do not get hot during barbecuing, so you can take them down or adjust them at any time. Side air slits in the barbecue ensure an optimal air supply, which makes lighting quick and easy. Our barbecues are characterised by their economical charcoal consumption. You need much less charcoal to reach the desired temperature.
Thanks to the plastic corners attached to the stainless steel plate, the T1 can easily be placed on any surface. This means that even the most delicate table will not be damaged during barbecuing. The radiated heat is also so low that it does not affect your table. This is because the TÜV stipulates that it must not be more than 50 Kelvin above the ambient temperature.


Model accessories and extensions for the T1
With various accessories, the T1 can be expanded to become a shish kebab barbecue or smoker without any problems. It can also be equipped with a rotisserie. With your table barbecue, this allows you to prepare rolled or rotisserie meat, poultry, fish and Balkan specialities. THÜROS® offers a plug-in module principle when it comes to extensions. With a few exceptions, no accessory is permanently attached to your barbecue, so you can easily change the attachments at any time. At the table, each guest can prepare their barbecue food individually - whether light or dark, medium or well done - no one has to stand idly by and everyone is together.