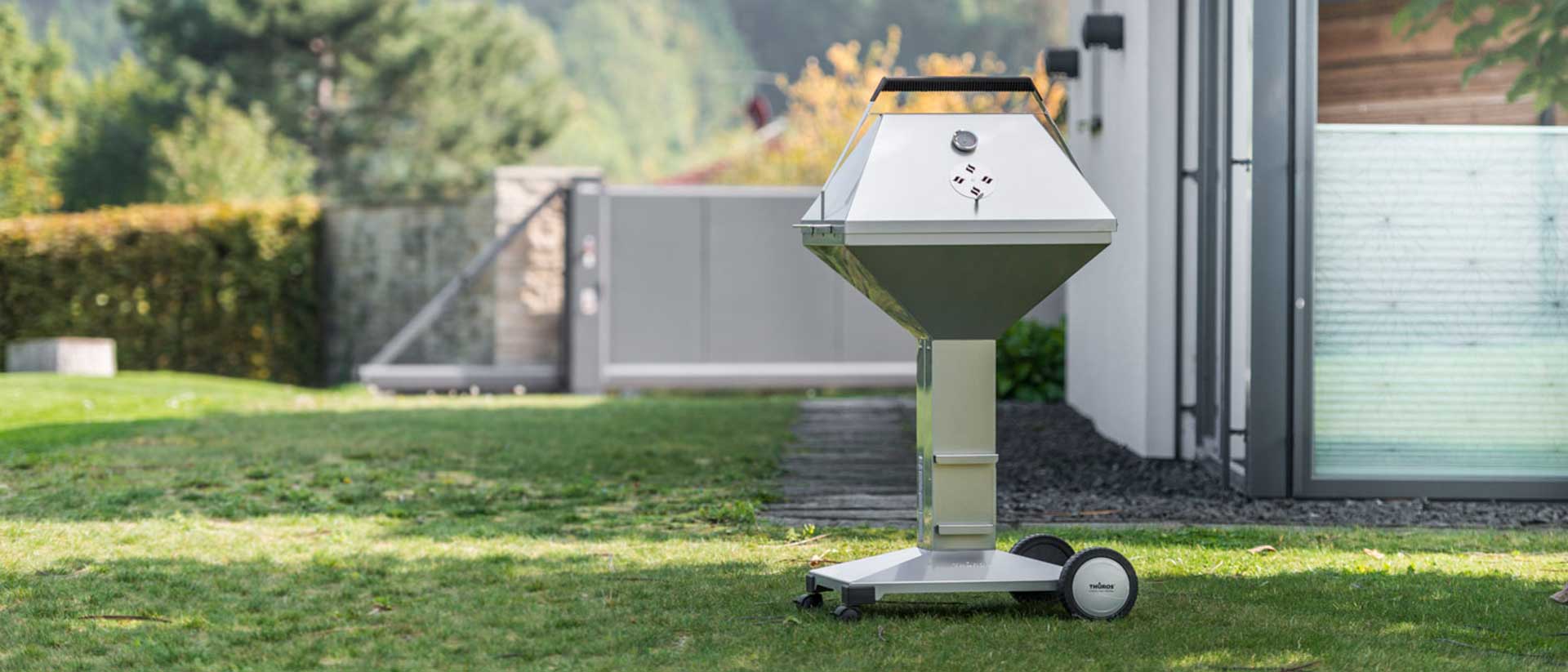 The THÜROS chimney flue barbecue made of stainless steel and the chimney flue principle
The THÜROS chimney flue barbecue works with the well-tried chimney flue principle. So it has the advantage, that it is fired up fast and easily. Auxiliary devices like hair drier or bellows are not necessary. After having the barbecue lit up, it takes only 15 minutes until you can start barbecuing – which is impossible using a barbecue without chimney flue.
The THÜROS chimney flue construction
The well-thought-out THÜROS chimney flue barbecue construction also has the advantage, that you need much less charcoal. So you can use more classy charcoal, like retort charcoal, which in turn maintains heat longer and more constantly than cheaper types of charcoal. Find your chimney flue barbecue in the THÜROS product lines THÜROS T2, THÜROS T2, THÜROS T4 and THÜROS T5.
THÜROS – the market leader in chimney flue and column barbecues
The THÜROS GmbH is market leader regarding chimney flue barbcues and column barbecues with chimney flue principle. The barbecue manufacturer, whose name stands for "Thüringer Bratrost", which means "cooking grate from Thuringia", was able to apply the physical characteristics of the chimney flue principle in their barbecues in a very effective and elaborated way. The chimney flue effect boosts the air supply that the charcoal needs to burn quickly and constantly. With a chimney flue barbecue, sufficient oxygen reaches the charcoal from above and below – in contrast to normal charcoal barbecues, that get the oxygen only from above.
The THÜROS chimney flue priciple – advantages and strengths
The chimney flue principle enables an optimal air supply, which is indispensable for heating up the charcoal.
Due to the chimney flue effect, the charcoal is heated faster and more constantly. By means of a ventilation flap, which is located above the barbecue base, air is drawn in and rises up through the barbecue body. The effect of this chimney flue principle is that the charcoal receives optimal supply of air from below to heat up. The oxygen in the air fuels the fire and boosts combustion. Oxygen is combustible, so it is quickly burnt by the charcoal and the charcoal develops the optimum barbecue temperature within a very short time. As the air circulation is constantly maintained by the continuous suction of oxygen via the ventilation flap, the chimney flue effect according to the chimney flue principle is permanently guaranteed. The ventilation flap allows the air supply to be optimally regulated at all times - and thus also the barbecue temperature. To light the charcoal in the chimney flue barbecue, the flap is opened.